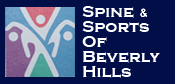 Spine & Sports of Beverly Hills
Dr. James Hassenfratz, D.C.
9478 W. Olympic Blvd., Suite 307
Beverly Hills, CA 90212
(310) 855-9899
Welcome to Spine & Sports of Beverly Hills. Please enjoy the many entertaining and educational activities you will find on our web site. During your visit don't forget to click on "Newsletters" above and sign up for our Free Email Newsletter.
At Spine & Sports of Beverly Hills you will find a group of committed professionals with the goal of providing the highest quality of care possible to our patients with a natural holistic approach.
We are committed to educate our patients with the full understanding of Chiropractic and how its effects your overall wellness to reach optimal health and performance. Through proper alignment, the body will function at its peak.
Spine & Sports of Beverly Hills is ready to become your stepping stone to better health. Click on the "Contact Us" above and call for an appointment today. Let this be your first step on the path to better health.